Startup Costs for Starting a New Medical Practice [Infographic]
Many physicians are considering opening their own medical practices. They are finding they make more money by being out on their own rather than working at the local hospital. They also like the stability and flexibility that comes with having your own practice. In this first infographic called "GETTING YOUR MEDICAL PRACTICE OFF THE GROUND," we show some of the costs that a new practice can expect.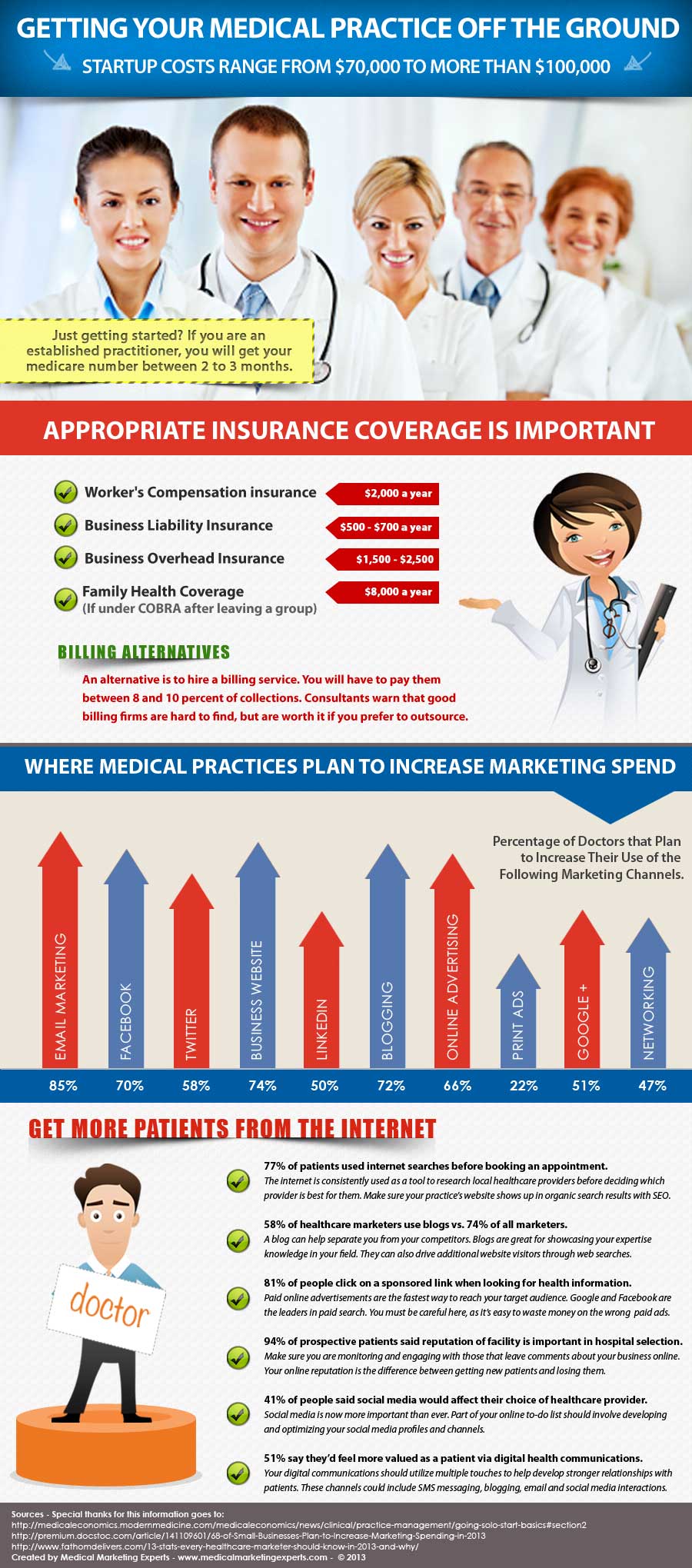 Share this Image On Your Site by Adding the Code Below to Your Website
Please include attribution to www.medicalmarketingexperts.com with this graphic.


This Infographic Covers
– AVERAGE STARTUP COSTS FOR OPENING A NEW PRACTICE
– IMPORTANCE OF APPROPRIATE INSURANCE COVERAGE
– BILLING ALTERNATIVES
– WHERE MEDICAL PRACTICES PLAN TO INCREASE MARKETING SPEND
– GET MORE PATIENTS FROM THE INTERNET
What Online Marketing Services Should a Medical Practice Invest in?
77% of patients used internet searches before booking an appointment.
The internet is consistently used as a tool to research local healthcare providers before deciding which
provider is best for them. Make sure your practice's website shows up in organic search results with SEO.
58% of healthcare marketers use blogs vs. 74% of all marketers.
A blog can help separate you from your competitors. Blogs are great for showcasing your expertise
knowledge in your field. They can also drive additional website visitors through web searches.
81% of people click on a sponsored link when looking for health information. 
Paid online advertisements are the fastest way to reach your target audience. Google and Facebook are
the leaders in paid search. You must be careful here, as it's easy to waste money on the wrong paid ads.
94% of prospective patients said reputation of facility is important in hospital selection.
Make sure you are monitoring and engaging with those that leave comments about your business online.
Your online reputation is the difference between getting new patients and losing them.
41% of people said social media would affect their choice of healthcare provider.
Social media is now more important than ever. Part of your online to-do list should involve developing
and optimizing your social media profiles and channels.
51% say they'd feel more valued as a patient via digital health communications.
Your digital communications should utilize multiple touches to help develop stronger relationships with
patients. These channels could include SMS messaging, blogging, email and social media interactions.